60 years of JJ Thompson
We're celebrating 60 years of JJ Thompson! And what better way to mark the occasion than by saying thank you to all our customers, old and new? Altogether now...
It's hard to believe that the lab is now 60 years old. Of course, things have changed somewhat since it was established back in 1958 by John (Jack) Thompson.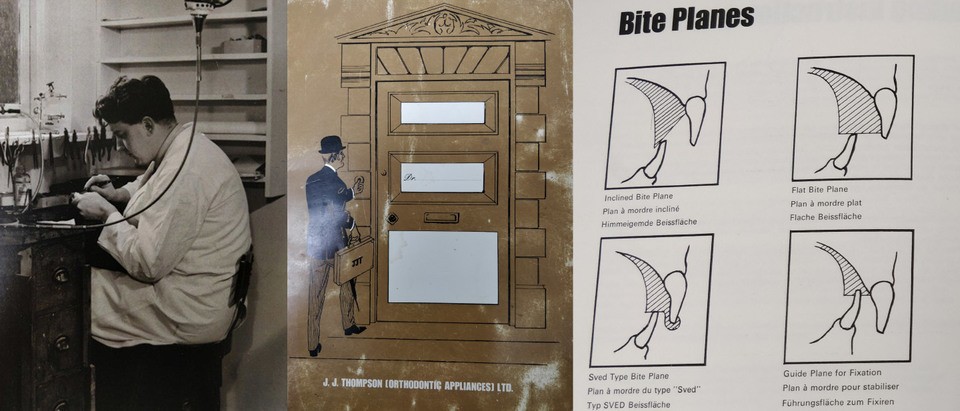 After deciding to leave the Charles Clifford Dental hospital in 1958, Jack and his wife Sylvia and Sylvia's younger brother John Beardow made the very first
'JJ Thompson' orthodontic appliances in the kitchen of Jack's and Sylvia's home. This small but industrious team moved into the company's first lab premises at Little Lane, Sheffield six months later.
The team were kept busy manufacturing appliances for their steadily growing customer base until 1966, when they decided to travel to New York to attend their first international dental conference. Their first foray into overseas trade was a success, they picked up quite a few customers there despite their home -made stand (which was partially coated in brown felt!) melting under the hot exhibition lighting!
They continued to export appliances to the USA until the company's indemnity insurance premiums became that high, that the cost was more than the income from the work.
By the beginning of the 70's the staff numbers were into double figures, Jack and Sylvia's son Paul Thompson had joined the workforce and the international focus shifted to markets closer to home – namely France and Germany.
The team outgrew Little Lane once they reached 20 staff and they moved to purpose -built premises on Hill Street in 1978.
The lab at this time were manufacturing Bimlers, Frankels and Van Beeks alongside a full range of removable appliances for the German and UK orthodontists.
Jack and Sylvia retired in 1986, selling the company to brother-in-law John Beardow and their son Paul. Some of the young staff members who joined in the early 80's are still with the company – and are looked upon by today's new technicians as dinosaurs as they can often be heard reminiscing about Friel springs, Broussard retractors, apron springs and self-straightening bows.
JJ Thompson's sister company Eurodontic Ltd. was formed in 1992, initially to buy stock in bulk for the growing laboratory. Eurodontic continues to thrive today, supplying 3D printers, pressure forming machines, lab materials, brackets and archwires from leading suppliers from around the world.
Jack passed away in 1996, and John and Paul finally both retired by the end of 2012, passing the running of the company to Ann John who joined the lab in 1984.
Since then, the lab has embraced digital technology, investing in the latest scanners, printers and communication platforms. Although they take an innovative approach to their work, the lab still stays true to its early roots, creating hand-finished appliances to the very highest standards.
JJ Thompson Ltd is still situated at Hill Street, having recently undergone a lengthy extension and refurbishment programme, and the staff currently number 52.
Jack Thompson would be proud.
JJ Thompson became part of the BUPA family in 2016, and the lab continues to go from strength to strength. Who knows what the next 60 years will hold!