Focus on....Indirect Bonding
In any practice, the most valuable resource is your time. Accurate bracket positioning is an essential, yet time-consuming element of many treatments, with most fixed appliances requiring a lot of time and attention during the direct bonding process. It takes a great deal of orthodontic skill to attain the optimum bracket position the first time round. The slightest miscalculation can lead to more adjustment appointments, complex wire bending and prolonged treatment times.
Indirect bonding, which is also known as digital bracket placement, determines the exact digital position for each bracket. Our cutting edge software enables us to calculate the most infinitesimal changes to their placement – movements that simply wouldn't be possible working in the mouth. You can then review the placements on using our online customer portal, including images of the predicted outcomes and 3D animated tooth movement. This is a useful tool for discussing the treatment plan and expected results with your patient.
Once the positions have been reviewed and agreed, our technicians manufacture and hand-finish your bonding trays with unrivalled accuracy.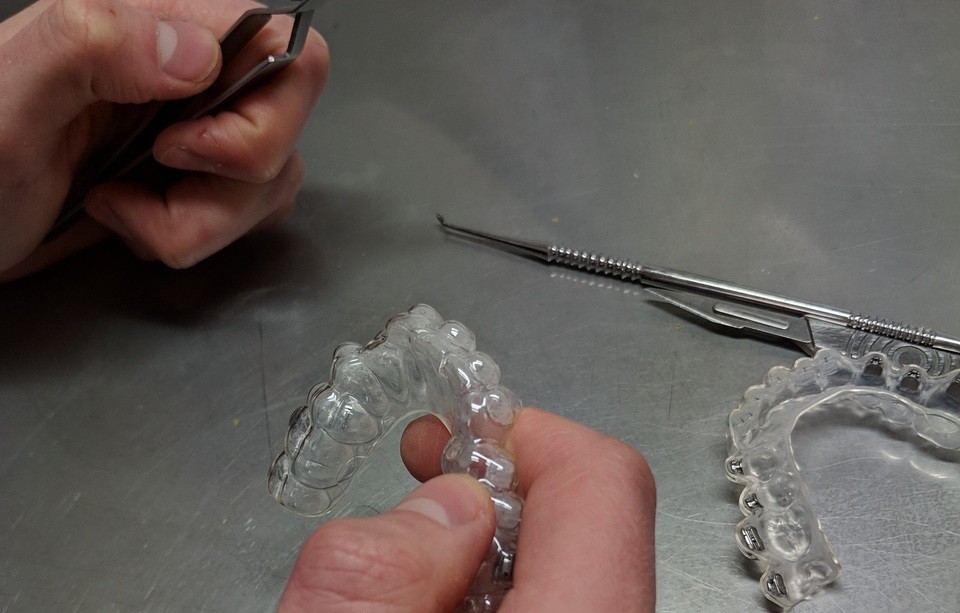 What are the benefits?
Clinical excellence - outcomes are more accurate, predictable and consistent, adjustments to bracket positions and wire are minimised or eliminated and patient satisfaction is increased
Fast and efficient - greatly reducing bracket placement time
Ultimate control – prior to tray fabrication, the files are sent to you for review and approval. At this point you have the opportunity to request any alterations
Easy and flexible - compatible with most popular straight wire bracket systems, we can use your brackets or you can choose from our extensive library
Feedback from practices
Erik, one of our international doctors, had this to say about the service:
'In my clinic, we do indirect bonding in about 85% of all patients with full dentition or in late transition stage. In my experience, the benefits of indirect bonding are:


More accurate bracket placement, and better quality in the final tooth positioning. This saves treatment time and appointment time (2-4 months)


The bonding process can be delegated to dental secretaries whilst still maintaining quality. This saves money and frees up time for more starts.


We believe this process also reduces the risk of bonding failure.


With a little practice, the bonding process takes around 30 minutes, but we reserve 45-50 mins to allow for preparation, bonding, cleanup, placement of arches and all instructions
My secretaries now do the bonding, and consult me if there are any questions. They adopted the technique quickly, and the feedback from them is positive.'
How it works
Open an account on the JJ Thompson customer portal.
Decide what brackets you want to use.
Upload your patient's records (3D models, images, X-rays) to the customer portal. We accept .STL files from any intra-oral or desktop scanner, provided the quality is good and there are separate files for the upper and lower arches in correct occlusal orientation.
You'll receive a bracket placement plan showing the optimum bracket positions for your review and approval. This is your opportunity to request any refinements should they be required.
Once approved, we manufacture your bonding trays and ship them directly to you.
You can then use the trays chair-side for quick and efficient bonding.
For more information about the benefits of indirect bonding, or to get started, please get in touch.