How we can help
As we popped the corks and sang Auld Lang Syne on December 31st 2019, none of us could have imagined what 2020 had in store for us, not just in the UK and Europe, but right across the globe.
Our lives have been changed dramatically, both at home and at work. The dental industry has been affected just like every other profession. Practice doors have remained closed to all but the direst emergencies, teams have been furloughed and futures made uncertain.
As we carefully and hopefully take steps back to normality, we reflect on what we've learnt as a lab over the past 3 months, and how we can offer support to our customers as we all move forward.
The digital difference
As a dental/orthodontic lab working across the UK and Europe, JJ Thompson has been uniquely placed to see issues and trends emerging in real time. And what we've observed is this. The practices that have been able to offer some kind of service, albeit emergencies only, throughout this period, are the ones that have embraced digital dentistry. They've been able to log on to our customer portal and request remakes of broken or lost retainers. Our technicians have worked with them, retrieving and printing digital study files to make sure patients haven't been without their retainers.
It really has made us appreciate the benefits of digital impressions.
How we can help
With this in mind, we have been paying some thought to the products and services in our portfolio that might offer a helping hand to practices during this period.
If you've read this far, it will come as no great surprise that we highly recommend moving away from physical impressions and replacing them with digital scans. They future-proof your practice against future calamities, offer greater freedom and flexibility in terms of working practices, and they can be stored indefinitely.
We would be more than happy to give you the lab take and talk through the pros and cons of intro oral scanners if your mind is already going down this route.
Likewise, we have a whole section of our website dedicated to our range of digital services. Take a look around to see how your practice could benefit.
Optimm
Our new digital bracket placement service will save you bonding time, and during the course of the treatment, you can reduce the number of patient appointments and adjustments.
Optimm isn't just an indirect bonding service. By setting the patients arch up to a virtual finish we can determine the exact digital placement coordinates for each bracket. The treatment results so far show that the Optimm service is extremely accurate and gives predictable and consistent outcomes. Find out more here.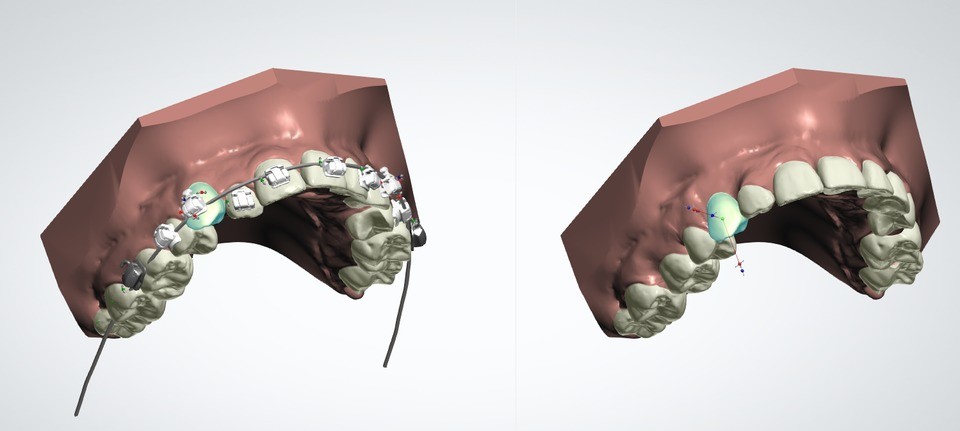 Bracket removal
Once you've identified that your patient is coming to the end of their treatment, you can scan your patient with the brackets on. When we receive your file, we can remove the brackets digitally.
This means you can leave the brackets on your patient until their debonding appointment and fit their retainer straight away, so that the patient doesn't have to wait. It saves an additional visit, which is safer and more convenient for you and your patient.
We can show you an example of the quality of the scan we need, and you can find out more about the service here.
Scan and store
And for doctors who aren't digital, we can still help with those patients who require long term retention and repeated retainer orders. Just ask us to scan the impression when it arrives and store a digital file.
Next time your patient needs a new retainer, we won't require another impression. We'll simply retrieve the file and print new working models.
Help and advice
Lastly, we'd like to say to all of our customers that we are here to help. We're all having to change the way we work, and we're all learning as we go. If there is anything we can do to support you through this period of uncertainty, please do get in touch.